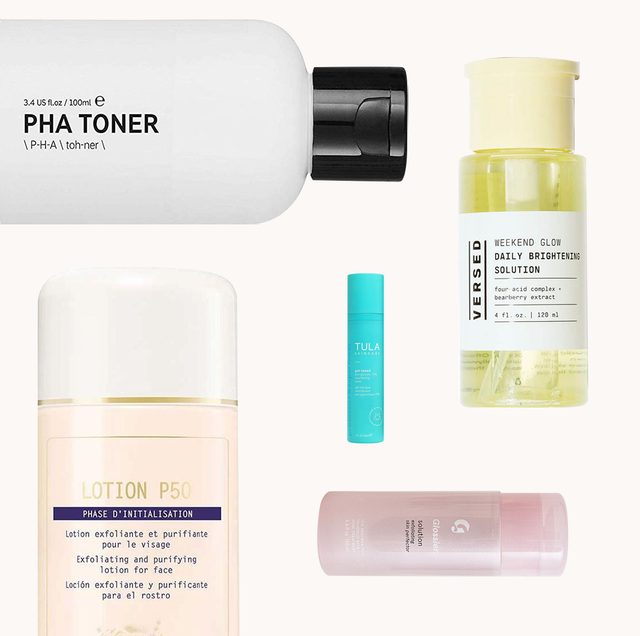 Katie Buckleitner
Like 99 percent of the time, I'm not a fan of ~trendy~ skincare products. IMO, you only really need to use the tried-and-true staples—a gentle cleanser, moisturizer, sunscreen, and maaaaaybe a retinol—to get healthy, smooth, glowing skin. But even I have my exceptions, and my one exception to this anti-trend rule? Exfoliating toners (aka acids, chemical exfoliants, etc.). They're arguably the buzziest skincare product right now, and unlike other one-hit wonders (remember bubble masks lol), exfoliating toners are actually worth a permanent place in your routine.
These liquid-y exfoliators are typically made with some combination of acids (like PHAs, BHAs, and/or AHAs), pH-balancing ingredients, and humectants to get rid of dead skin cells and soothe and hydrate your skin, leaving it smooth, soft, and ready for the next steps in your routine. And yes, even people with sensitive skin and rosacea can use exfoliating toners—as long as you find the right formula. So please, go ahead and jump on this skincare bandwagon (you have my full support) and try one of these nine best exfoliating toners—your skin will thank you.
Advertisement – Continue Reading Below
1
Best Exfoliating Toner for Oily Skin
Glamglow Supertoner Exfoliating Acid Solution
This toner is basically a miracle for oily skin, thanks to a combo of charcoal and exfoliating acids. The charcoal absorbs excess oil to stop you from looking overly shiny, while AHAs and BHAs (like salicylic acid, glycolic acid, and lactic acid) dissolve pore-clogging dead skin cells and sebum.
2
Best Exfoliating Toner for Sensitive Skin
The Inkey List PHA Toner
You're likely familiar with AHAs and BHAs, but do you know about PHAs (polyhydroxy acids)? If not, pls allow me to introduce you to this exfoliating toner. PHAs work similarly to other exfoliating acids, except they don't penetrate skin as deeply, making them a gentler alternative for sensitive skin types. Translation: They'll still improve your skin texture but are less likely to cause redness or irritation in the process.
3
Best Exfoliating Toner for Acne-Prone Skin
Glossier Solution
If you're dealing with acne, this is the exfoliating toner for you, my friend. The skin-clearing formula uses 0.5 percent salicylic acid to free pores of buildup and excess sebum, plus AHAs and PHAs to remove dead skin cells, smooth skin texture, and fade stubborn scars and marks from old breakouts.
4
Best Exfoliating Toner for Dry Skin
Tula Get Toned Pro-Glycolic 10% Resurfacting Toner
Dry skin will love the instant smoothing and hydrating effects of this exfoliating toner. The gel-like, alcohol-free formula uses a combo of soothing and moisturizing probiotics, exfoliating glycolic acid, and antioxidant-rich beetroot extract to get the job done.
5
Best Exfoliating Toner for Dull Skin
Versed Weekend Glow Daily Brightening Solution
Boost your glow with this exfoliating toner for dull skin. It'll help fade hyperpigmentation, even out your skin tone, and create an overall brighter appearance with a combo of four different acids (including lactic, glycolic, kojic, and azelaic acids) and vitamin C.
6
Best All-Natural Exfoliating Toner
Josh Rosebrook Daily Acid Toner
Clean, green, and cruelty-free, this exfoliating toner checks all the right boxes. It's made with glycolic acid to resurface your skin, plus hydrating aloe vera, glycerin, and hyaluronic acid to create a plump and dewy effect.
7
Best Exfoliating Toner for Large Pores
Glow Recipe Watermelon Glow PHA +BHA Pore-Tight Toner
Large pores who? This powerful exfoliating toner uses PHAs and BHAs to get rid of dead skin cells, de-gunk pores, and refine your texture for skin that's ultra-smooth and pores that are virtually non-existent.
8
Best Exfoliating Toner for Hyperpigmentation
Bolden Skin Brightening Toner
Melasma, post-inflammatory hyperpigmentation, dark spots…this exfoliating toner helps fade it all. Inside the bottle: skin-brighteners like licorice root, algae extract, and niacinamide, plus resurfacing glycolic acid. Together, they regulate melanin production (aka prevent new spots from forming and existing ones from getting darker) and loosen the glue that holds together damaged, dead skin cells.
9
Best Cult-Classic Exfoliating Toner
Biologique Recherche Lotion P50
shoprescuespa.com
Meet P50: The OG exfoliating toner from fancy French skincare brand Biologique Recherche that just about every beauty editor I know loves. It exfoliates (duh), hydrates, brightens, and balances your skin's pH with a blend of acids and plant extracts. I've been using it on and off for years—it's one of those products (no matter how many you try) that you'll always come back to.
This content is created and maintained by a third party, and imported onto this page to help users provide their email addresses. You may be able to find more information about this and similar content at piano.io
Advertisement – Continue Reading Below